This is a really cool bike we got recently. it is a Spectrum track bike made by Tom Kellogg in Trexlertown, PA. Tom is well known in our area and world wide for his bikes. This example is no exception. Top notch construction for the velodrome. It is also equipped with Shimano Dura-Ace 10 pitch drive train and hubs.
What is so special about 10 mm pitch parts?
      Well, most bike (drive) parts in the world are designed around a 1/2 inch (12.7 mm) pitch chain. That is the centre to centre distance of the chain pins. A  long time ago, chain pitch was 1″, but that was a different chain design. Somewhere in the 1970s, the Shimano people got the great idea to reduce the chain pitch to 10 mm. The chain rings and the sprockets became smaller and the chain shorter, resulting in less weight.
Dura Ace 10 mm pitch series were introduced in 1976.
      Somehow, the 10 mm pitch series never convinced the cycling world and the parts weren't a big success, despite the world championship match sprint (1976) of John Nicholson from Australia with these components. There is a story, that the Keirin federation banned these parts, because the riders would have an unfair advantage. Somewhere in the 1980's, the 10 mm pitch series were discontinued.
      Not only is the chain  unique. Of course, chain rings and sprockets have to match the smaller pitch and are different, too.  Because the chain rings and sprockets have a smaller pitch, but the same number of teeth as regular components, the diameter is smaller. That makes it necessary to make the bolt circle diameter of the cranks smaller, as well as the diameter of the threads on the rear hub.
Head set and bottom bracket set are the same as the normal 1/2″ pitch Dura Ace track series.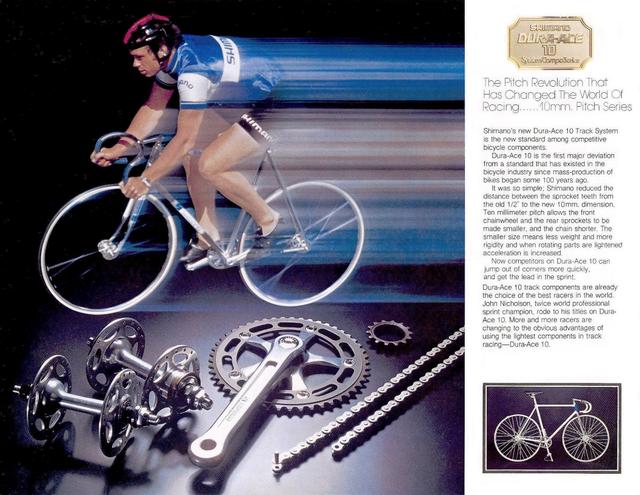 The details of this bike are as follows:
52 CM CTC seat tube
56 CM CTC top tube
31″ standover height
Shimano Dura Ace 10 pitch hubs laced to Mavic Gel 280 tubular rims with tied and soldered double butted spokes.
Shimano Dura-Ace 10 pitch drivetrain (rear cog, cranks 165mm, chain ring, and chain)
Shimano Dura-Ace bottom bracket.
Shimano Dura-Ace NJS head set
Shimano Dura-Ace seat post
San Marco SuperCorsa saddle ( Concor)
Shimano Dura-Ace aero stem (110mm) extension
Suntour Superbe track pedals
Cinelli Criterium 39CM wide bars
     The bike is painted a magnificent metal flake emerald green and has all the original decals and the previous owner's name "Charlie" is hand painted on the top tube. Serial number: 84 280 30 45 is stamped  on the BB shell.
     please email: bikeville@gmail.com for price and any questions you may have. Thanks!